Cellink Bio X 3D Printer
Built to meet the needs of
today's bio-scientists
The Cellink Bio X 3D printer by CELLINK is an efficient and effective 3D Bioprinter with HeartOS, which is the most powerful bioprinting operating system. Bio X is the new bioprinter of choice for companies and researchers involved in Life Sciences, as it has been built keeping their needs in mind.
Bio X'sstate-of-the-art Neocortex M1 internal computer, allows the user to direct the intricate process of buildingbioprinted human tissues.Perfect for applications such as – Printing Cells (bone marrow, stem cells, etc), creating 3D printed organs, among others.
3D Bioprintingis a revolutionary technology that's accelerating advancement in the field of tissue engineering and regenerative medicine.  By leveraging this technology the Cellink Bio X brings scientists and researchers yet closer and faster to a desired future of medicine.
Bio X is the first bioprinter with Intelligent Print Heads, to make sure your research is avant-garde. You can design and customize your own dispensing technologies or methods and use them with the BIO X systems. The possibilities are endless, giving you full freedom and flexibility in your lab work.
Bio X has been designed keeping our users' needs in mind. The 7" touch display can be accessed even while wearing gloves, to further facilitate keeping of a clean environment. Like any other lab equipment, BIO X and its screen are durable and hence, can be cleaned.
With its integrated air supply, cooling system, compressor, touch screen, and WiFi Connectivity, the Bio X requires minimal to zero supplementary support. Bio X maintains a small lab footprint, while being a complete standalone unit on its own.
Bio X's double, high-powered fans produce a robust airflow through its dual filtration top, to create positive pressure inside the chamber. More than 99.995% of unwanted particles and microorganisms are filtered by the HEPA H14 dual filter top. BIO X is also equipped with UV-C germicidal lamps that allow you to run sterilization cycles to sterilize the printing environment.
Multitude of Applications
CELLINK offers a wide range of print and tool heads to cater to all your bioprinting needs. The printing heads include:
Extra Heated Pneumatic Head (130°C)
Cooled Pneumatic Head (4°C)
Ink-Jet Print Head (85°C)
Syringe Pump Print Head
Photo Curing Tool Head, for UV light in any wavelength
HD Camera Tool Head
Bio X's triple head technology combined with the different materials and printing techniques really offer a customised solution to our users.
Key Benefits & Applications
BIO X is an easy-to-use yet versatile machine, providing the user with an exceptional bioprinting experience. The intuitive features along with the new BIO X software accessed through the large touch screen display minimizes the learning curve, increases efficiency, and ensures desirable results.
With its wide range of Bioinks available for biofabrication and cell scaffolding, Bio X can support cartilage, skin, bone, muscle, MSC's and sacrificial materials applications. Thereby providing an ideal solution for 3D Bioprinting and 3D cell culturing.
3D printed organs and tissues bioprinted with this printercan be used in drug discovery where researchers can test new potential treatments and analyse effectiveness in initial stages. This drastically minimizesthe need for animal testing resulting in lower failure rates for clinical trials as the new drugs and treatments formulated are more effective and reach trials faster. BIO X is the new go-to bioprinter for life science and cosmetic companies, enablingcell biologists, clinicians and innovatorsto simplify complex processes of cell printing and deliver better medical results.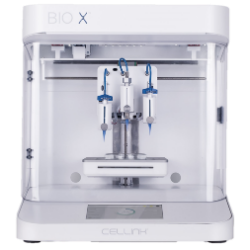 Buy theCellink Bio X, the go-to 3d bioprinter for life science companies, researchers and innovators who work with bioprinting
Usage & Operation
Bio X is a standalone bioprinting unit with a small lab footprint. With a layer and positioning resolution of 1 micron, the machine size is about 500x360x450mm. It has a modular system of triple printing nozzles, with about 7 easily interchangeable printing and tool heads included to offer a real customisable experience with multiple applications.
Calibrated automatically, with a layer thickness of 50 microns, the build extent of Bio X is about 130x90x70m. It comes installed with HeartOS, which is the dominant bioprinting software in the market.
See this video to get an idea of the different parts and functionalities of the printer and how to mount the different components like the printheads, the petri dish holder, etc.
3D Bioprinting in Singapore
Bioprinting has seen a lot of activity in the region in recent times with NUS launching an Additive Manufacturing Hub focussing on new drug discovery and tissue regeneration. Attention will now be on innovators, researchers at Life Science companies in the region to further the field and boost technological advancements. With its customisable and versatile nature, Bio X by CELLINK will enable fast paced research for new drug discovery, treatments and creating bioprinted tissue.
For a FREE demo of Cellink Bio X 3D Printer or other similar 3D printing machines
For a FREE demo of Cellink Bio X 3D Printer or other similar 3D printing machines